The height of online holiday shopping is now in full swing, however, before Black Friday and Cyber Monday hit, ad fraud was ticking upward in preparation for the holiday online blitz. Online ad spending

historically spikes in the fourth quarter

as marketers vie for consumer attention in the weeks ramping up to the holidays. According to the IAB's annual ad revenue report, in 2017 internet advertising revenue in Q4 was 20 percent higher than Q3. As demand increases, so too does ad traffic from bots, compromised devices and malware. Fraudsters seek to take advantage of the increased spending, and advertisers look to fulfill campaign goals in a tighter marketplace.

Looking at the percentages of fraudulent ad traffic over the past three months within the programmatic ecosystem, we compared the averages from September, October and November. September had an average of 11.5 percent fraudulent traffic and October had an average of 11.6 percent. But from Nov. 1 through Nov. 21 (the weeks leading up to Thanksgiving), fraudulent traffic jumped to 14.2 percent – a 22 percent increase from October and a 23 percent increase from September.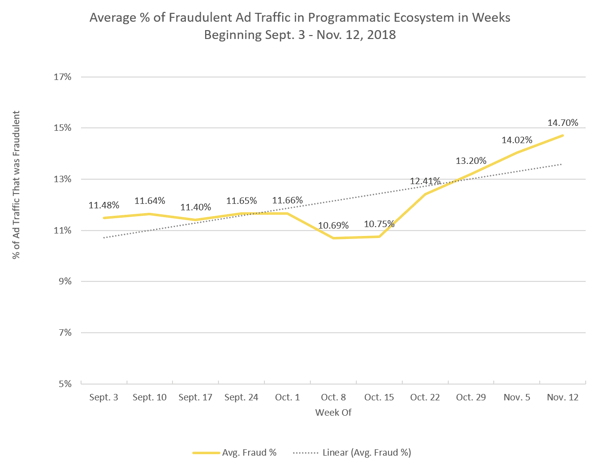 So what can marketers do to combat the rise in fraudulent ad traffic during the holidays? Here's a few tips:
Keep an eye on your KPIs.
Although it may be busy this time of year, don't lose sight of the performance metrics that you use for the rest of the year (e.g., if you see spikes in traffic but no changes in conversions, you may have a bot problem). It may be tempting, but when it comes to your online campaigns in Q4 don't 'set it and forget it'.

Don't be tempted by the bargain basement.
It's out there: ad traffic with too-good-to-be-true CPMs. The problem is that it probably is too good to be true–cheap ad traffic is synonymous with fraud. If you think about it in terms of supply and demand, cheap traffic makes no sense this time of year: digital ad demand is the highest it will be all year during Q4, so if you see inventory going for bargain-basement prices, be wary.

Be realistic about your campaign goals.
Fraudsters are trying their best to catch those advertisers desperate to reach an improbable number of consumers in a tight target market. Bots can assume any buyer persona though, and their views are unlimited. Make sure your campaign goals are in line with the size of the target market you're looking to reach.

Keep an eye on quality – even for trusted publishers.
This time of year can be tricky as some publishers find themselves having to source traffic to fulfill the surge in demand, which can expose advertisers to an increased risk for fraud. The demand side of the programmatic market should keep a close eye on the quality of traffic coming from all publishers and suppliers - the traffic quality of those that are traditionally clean can easily slip if sourced traffic gets introduced.
While ad fraud appears to be increasing as the quarter progresses, with proper oversight and careful buying habits in place, it can be largely avoided for a profitable, fraud-free holiday season.