Over-the-top (OTT) ad serving has become a hot topic among marketers looking to reach consumers who are increasingly streaming video through connected TVs and cutting ties with traditional cable. The ad tech sector is rushing to provide solutions that will allow advertisers to target this tuned-in audience effectively. And, not surprising based on the digital ad industry's history, fraud is following the funds into the OTT environment.
---
Download a copy of this report.
A PDF of our OTT Ad Fraud Report, April 2019 is provided in the link below.
---
As marketing dollars pour into OTT, we found that ad fraudsters are taking advantage of advertisers using two main methods, which are reminiscent of schemes used for mobile and display environments previously. The first is creating fake video ad views using bots and malware and the second is simply spoofing an OTT device.
Faking the video views
Approximately 7 percent of OTT ad traffic was faked, i.e., impressions were non-human and/or created by bots, often from OTT devices infected with malware. In many cases, fraudsters are able to fake video impressions in OTT environments in similar fashion to how they fake in-app ad impressions: they're using botnets, which are a collection of devices infected with the same malware and can be controlled by a third party. In the case of OTT ad fraud, the fraudster uses malware to command devices within a botnet to play video ads, often in the background or when a viewer isn't present.
Faking the OTT devices
Approximately 11.7 percent of purported OTT ad traffic was spoofed. This second area of OTT ad fraud occurs when a nefarious player spoofs an OTT device in an ad call. In these cases, fraudsters are basically tricking advertisers into paying more for supposed OTT video views while ads are actually served within less-optimal inventory, like a desktop display ad.
The global distribution of OTT traffic and fraud
A majority (55 percent) of the OTT ad traffic we observed came from three countries: the United States (35 percent), the United Kingdom (11 percent), and Vietnam (9 percent), followed by 6 percent from Germany and 4 percent from Mexico. However, when it came to all fraudulent OTT traffic, the United States and Mexico both saw disproportionately high percentages of the fake traffic: 39 percent of all fraudulent OTT traffic came from the U.S. and 8 percent of it came from Mexico. Disproportionate amounts of fraudulent traffic compared to normal traffic could signify that fraudsters are more active in these countries and/or are specifically targeting these countries.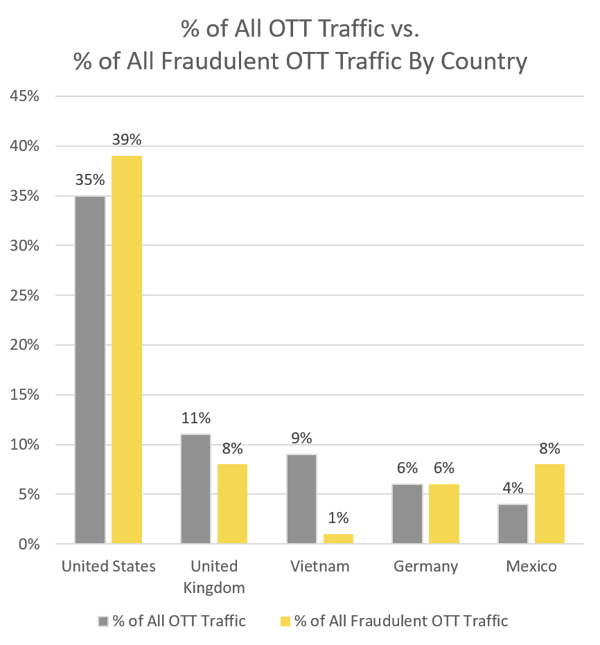 The United Kingdom leads the world with spoofed OTT traffic: 32 percent of all spoofed OTT traffic came from the UK, 24 percent from Vietnam, 11 percent from the United States, and 5 percent from Germany. Similar to previous digital ad fraud schemes, high demand for OTT ad traffic coupled with limited inventory perpetuates spoofing fraud. Marketers may be duped into buying spoofed inventory by fraudsters offering low CPMs and next-to-impossible fill rates.
18.7 percent of OTT ad traffic is fraudulent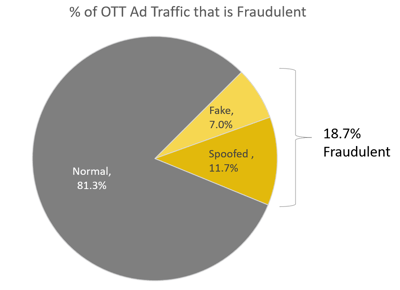 Combining these two fraud schemes, the overall rate of fraudulent OTT traffic can be estimated at 18.7 percent. This may seem like a daunting figure for a just-emerging marketing channel, however, lessons learned from the desktop and mobile ad environments can be applied to this space to drastically reduce an advertiser's risk level:
Know who you're buying from. Make sure you're buying OTT inventory from trusted partners.
Keep an eye on your metrics. Make sure you're measuring your views and watching for unnatural patterns (e.g., one IP viewed 1,000 video ads in a minute).
If it seems too good to be true, it probably is. Be wary of OTT video ad inventory that's much cheaper than competitors' for the same placements. This is a sign that spoofing may be happening.